Department of Physical Education
MES College has got a very proud tradition of sports and it can claim among its alumni sportsmen of national reputation. The college provides ample facilities for Volleyball, Cricket, Kabaddi, Athletics and martial arts. It also has a well-equipped health club with excellent facilities, open to the public as well.
MES College stands on top in sports achievements among the colleges under the Mahatma Gandhi University. With vibrant sports culture from its inception, the department of Physical Education of the college has proved its distinction in many other games by winning the different University and State tournaments.
Vision & Mission
Department of Physical Education is focused on the development of student: physical, mental, and intellectual level. Programs within the department are interdisciplinary by nature and combine the fields of education and social sciences. The department is dedicated to providing a high quality education and career preparation with the idea of excellent teaching being the central to our mission.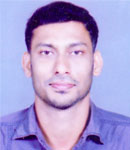 Mr. ANOOP NAZEER
Assistant Professor& Head Of The Department
M.P.Ed., M.Phil.
Mob : 8086727032
e-mail :  anoopnazeer34@gmail.com
Minor Research Projects
| | | |
| --- | --- | --- |
| Principal Investigator | : | Mr. ANOOP NAZEER |
| Project Title | : | Combined effect of resistance training on performance related variables among young volleyball players.Project Report |
| Project Period | : | 2015 |
| Project Amount | : | Rs. 275000 |
| Project Status | : | Completed |
| Funding Agency | : | UGC |