Department of Political Science
Established in 1993, Dept of Political Science offers only complementary courses to BA Economics and BA History, for 3rd and 4th Semesters.
Department offers complementary papers such as:
"An Introduction to Political Science" and
"Governmental Machinery and Processes
Vision
To impart quality education so as to develop scientific temper and spirit of critical inquiry.
Mission
To promote higher education among the students from backward classes, most of whom constitute a   disadvantaged group.
To help learners keep abreast of latest developments in the discipline using updated technology such as Internet-enabled classroom and use of ICT.
To promote a healthy two-way relationship between the teachers and the taught by strengthening the academic feedback mechanism.
To provide value-added courses to complement the routine syllabi in order to achieve overall excellence.
List of Faculty Members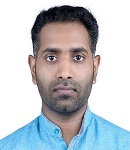 NIPPY JAN TOMY
Asst.Professor On Contract
M.A, NET.
Mob : 9061073750, 7011401660
e-mail: nippyjan@gmail.com