P.G Department of Statistics
In the academic year 1995-96, the Department of Statistics started with Sri V.P Rahmathulla as the first member for handling the classes in the post graduate program me in Operations Research and Computer Applications (OR & CA).
Vision
To create Operations Research practitioners to address problems in various sectors such as Agriculture, IT, Banking, Transportation and Small scale industries in Idukki district in particular and Kerala in general.
Mission
To inculcate scope and opportunities of operations research techniques to the students and empower them to develop the skills of Mathematical modeling in addressing the real life problems.
Programmes Offered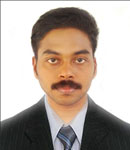 Mr. NIHAL SHAHULHAMEED
Assistant Professor on Contract
M.Sc. OR CA
Mob : 99472 88521
e-mail :nihalnedumkandam@gmail.com
ReadMore…
Major Research Projects
.
| | | |
| --- | --- | --- |
| Principal Investigator | : | Dr. MINI T C (Transfered) |
| Project Title | : | Health seeking behavior of Malayaraya Tribes in Idukki District. |
| Project Period | : | 2010-2012 |
| Project Amount | : | Rs. 526000 |
| Project Status | : | Completed |
| Funding Agency | : | ICSSR |