Department of Chemistry
The department of Chemistry came into being in the year 1984 as a part of pre-degree course. B.Sc( Model II) Vocational Chemistry with Agrochemicals as elective subject was started In 1999 and in 2009 it was renamed as BSc Model(II) Industrial Chemistry It is a six semester three year programme. In this programme the students have an opprtunity to undergo on the job training programme in any factory.
Vision
To mould students to solve the challenges in theoretical and industrial chemistry through academic excellence.
Mission
Preparing students to enter industry and higher studies
Programmes Offered
List of Faculty Members
Mr. SATHEESH BABU T
Assistant Professor & HOD
M.Sc., NET
Mob : 94468 59484
e-mail:tsatheeshbabu@gmail.com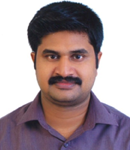 DR. P.C. NANDAJAN
Assistant Professor
Ph.D.
Mob : 9446543489
e-mail : pcnandajan@gmail.com